Show Me Mystery Series
    Show Me the Murder (February 2013)
        Read Chapter 1       
        Discussion Topics for Book Groups
        Readings/Presentations
        Reviews
    Show Me the Deadly Deer (December 2013)
    Works in Progress
Short Stories
"Crossing the Bridge"
"Leftovers"

Show Me Mystery Series 
This character-driven mystery series features an action-addicted ex-spy and two childhood friends, a small-town civic leader and a never-been singer. They reunite in their rural Missouri hometown to overcome personal crises and to combat crime.

Show Me the Murder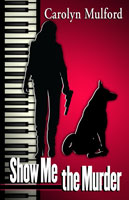 Five Star/Gale, Cengage, February 2013, 328 pp., $25.95
ISBN: 978-1-4328-2688-8
After a bullet shatters Phoenix Smith's career as a CIA covert operative, she returns to her rural Missouri hometown to recuperate and regroup. She arrives as her lifelong friend, civic leader Annalynn Carr Keyser, buries her husband, the sheriff. Everyone except the widow believes he shot his mistress and himself. Annalynn begs Phoenix to help prove he, too, was murdered. The old friends employ their diverse skills and conflicting attitudes to discover what really happened and to survive.
Read Chapter 1

Discussion Topics for Book Groups
Readings/Presentations
Ordering information
Request the book at your local library or bookstore.
They may order from Baker & Taylor, Ingram, or Five Star Publishing.
Order online.
Amazon
Barnes and Noble
The Book Depository.com (an international online bookstore)
"The first in Mulford's planned series explores the unsettling rise of crime in rural areas and provides an amusing and touching look at the reunited gal pals."
—Kirkus Review, January 1, 2013
"The friends' search for the truth, enriched by their individual and group histories, forms a solid foundation for a tightly woven tale of love and hard times in a small town."
—Library Journal, February 1, 2013
"Phoenix is a can-do heroine and all three of the women are appealing characters. The reader cheers when Annalynn steps up to take control of her life. Plot and setting are convincing and the compelling story keeps one reading."
— Verna Suit, Gumshoe Review, February 2013       (http://www.gumshoereview.com/php/Review-id.php?id=3558)
"This is one fast paced heart-pounding read. One of the best books I have read in a long time. I loved how Phoenix learned to cope and hide her injury. The plot will keep you guessing. I hope we will be reading more about Phoenix Smith very soon."
— Cheryl Green, MyShelf.com, February 7, 2013 (      http://www.myshelf.com/mystery/13/showmethemurder.htm)
"There is suspense here, gun battles, and a car chase, but what I enjoyed most were the relationships between the three friends and between them and other characters, including the dog.  Mulford has a real talent for showing how people change, how they influence each other, how they learn to trust and change their minds in good ways.  I also liked the authentic presentation of the tension between Phoenix's cynical inner voice and how she speaks and behaves to others, how she works out whom she can and can't trust.  Her gradually strengthening attachment to Achilles [the dog] … is endearing.
—Judy Hogan, http://postmenopausalzest.blogspot.com, February 17, 2013
Careful plotting and interesting characters are abundant throughout. … The camaraderie and feisty spirit of Phoenix and her two friends are … the strongest parts of this novel and are the reason why readers will pick up book two. The literary world needs strong, female characters, and Mulford has done an outstanding job of giving us a new one."
—Margo L. Dill, The News Gazette, Champaign, IL, March 10, 2013, http://www.news-gazette.com/news/arts-and-entertainment/books/2013-03-10/writer-gives-readers-new-likable-sleuth.html
Show Me the Deadly Deer  (Five Star, December 2013)

As acting sheriff, Annalynn recruits Phoenix and her K-9 dropout to look for a farmer reported missing. They find him armed and dead at his deer blind, a broken antler protruding from his back. Did a mad deer take revenge on the hunter, or did a wily human end the hunt?
Show Me the Gold


Phoenix and Annalynn's stakeout for vandals in a country graveyard turns into a fatal shootout with a family of bank robbers. Part of the gang escapes with a half million in gold coins and, it seems, an obsession with revenge.
Show Me the Final Curtain


Phoenix takes on the role of business manager and then bodyguard when Connie replaces an old friend, a murdered singer, in a variety show.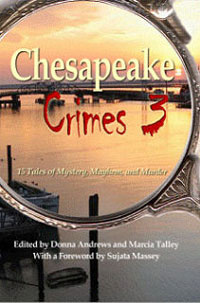 "Crossing the Bridge"
Chesapeake Crimes 3
Edited by Donna Andrews and Marcia Talley
Wildside Press, 2008
192 pp., $14.99
ISBN: 978-1-4344-0234-9
Everything frightens Lucille. As her children grew up, she hid all her fears—except driving across the four-mile-long Chesapeake Bay Bridge. When she goes on a police ride-along to see why her daughter became a cop, Lucille's fear could be fatal.
This short story appears in an anthology of "15 Tales of Mystery, Mayhem, and Murder" set around the Chesapeake Bay.
Ordering information
www.wildsidebooks.com
Amazon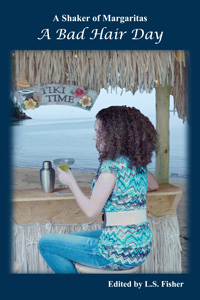 "Leftovers"
A Shaker of Margaritas: A Bad Hair Day
Edited by L. S. Fisher
Mozark Press
208 pp., $10.99 (paperback), $4.99 (e-book)
ISBN: 978-0-9844385-7-0
Dumped on Facebook, a humiliated wife donates her husband's abandoned treasures to a thrift store.
"Leftovers" is one of 24 humorous stories featuring a trying but triumphant day for women in their prime. Most stories take place in the Midwest, but writers from coast to coast contributed to the anthology, the third in an award-winning series.
Ordering information
Mozark Press (paperback)
Amazon (paperback and e-book)
Barnes and Noble (e-book)