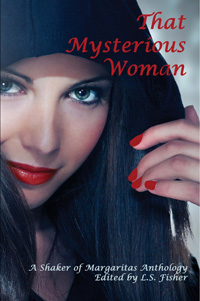 "An Aura of Death"
That Mysterious Woman: A Shaker of Margaritas Anthology
Edited by L. S. Fisher
ISBN: 9780990327004
Experience has taught Jessica to keep secret her ability to see character-revealing auras. When an inexplicable cloud over a murder victim's grave leads her to a killer, her unusual perceptions pose a dilemma and place her in danger.
"An Aura of Death" is one of 27 diverse stories by writers from more than a dozen states, including Alabama, Colorado, California, Georgia, Massachusetts, Montana, Missouri, and Virginia. That Mysterious Woman is the fourth in an award-winning anthology series.
Ordering information
Amazon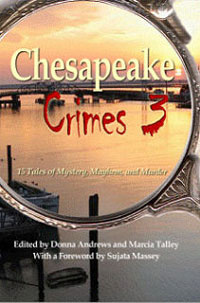 "Crossing the Bridge"
Chesapeake Crimes 3
Edited by Donna Andrews and Marcia Talley
Wildside Press, 2008, 192 pp., $14.99
ISBN: 978-1-4344-0234-9
Everything frightens Lucille. As her children grew up, she hid all her fears—except driving across the four-mile-long Chesapeake Bay Bridge. When she goes on a police ride-along to see why her daughter became a cop, Lucille's fear could be fatal.
This short story appears in an anthology of "15 Tales of Mystery, Mayhem, and Murder" set around the Chesapeake Bay.
Ordering information
Wildside Press
Amazon
"Leftovers"
A Bad Hair Day: A Shaker of Margaritas Anthology
Edited by L. S. Fisher
ISBN: 978-0-9844385-7-0
Dumped on Facebook, a humiliated wife donates her husband's abandoned treasures to a thrift store.
"Leftovers" is one of 24 humorous stories featuring a trying but triumphant day for women in their prime. Most stories take place in the Midwest, but writers from coast to coast contributed to the anthology, the third in an award-winning series.
Ordering information
Amazon (e-book)
Barnes and Noble (e-book)