Covid-19 stopped printers cold last spring. Consequently, the mass market paperback edition of Show Me the Sinister Snowman missed its slot in the printing queue. With the snow gone (until next winter, I hope), Harlequin Worldwide Mystery has just released the fifth book in the Show Me series.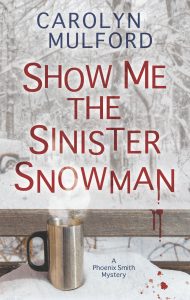 This one finds Phoenix and friends trapped in an isolated mansion by a blizzard. Their housemates are aspiring political candidates and potential donors, one of whom intends to lessen their number before the roads clear.
Phoenix has come to the meeting with two goals: to support Annalynn's electoral dreams and to rescue a young woman on the run. The former CIA operative's dual objectives force her to guard against an unidentified murderer within the sprawling antebellum house and a vicious hunter in the deep snow outside it. The latter and Achilles, Phoenix's clever Belgian Malinois, are the only ones delighting in the snow.
Midwest Book Review praised the book as "very highly recommended" and wrote, "Dedicated mystery buffs will appreciate the deftly crafted characters, as well as the unexpected plot-driven twists, turns and surprises …"
The new edition is available at https://www.harlequin.com/shop/books/9781335299741_show-me-the-sinister-snowman.html. The trade- and e-book editions remain available on Amazon.
—Carolyn Mulford