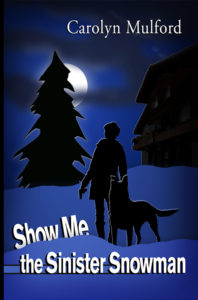 Cave Hollow Press, March 31, 2017, 290 pp.
Trade paperback, $14.95; e-book, $3.99
ISBN: 978-0-9713497-9-7
Harlequin Worldwide Mystery, 2016, 332 pp., $7.99
ISBN: 978-0-373-27997-6
Former CIA covert operative Phoenix Smith must play deputy again when her K-9 dropout sniffs out a unique murder weapon at the scene of a congressman's "accidental" death. Who tried to hide a homicide? She suspects either a corrupt political insider or an enraged abusive husband. To catch the killer and prevent more murders, Phoenix goes with her friend Annalynn, an aspiring candidate, to a political gathering at the late congressman's isolated ante-bellum mansion. A blizzard traps them there with three suspects inside and a sinister snowman outside.
Chapter 1
The anxious entourage waiting backstage thumbed cell phones while the Laycock Community College president droned on about the honor of welcoming U.S. Congressman Archer Candon and his wife Clarissa, a former music teacher. Relieved of social duties, I pulled up the day's emails to the Coping After Crime Foundation on my phone.
The applications for assistance had snowballed in the two months since I'd turned my late parents' house into the new foundation's temporary headquarters. I skimmed the subject lines: "Despirit for car" (a novel spelling for a common, and usually rejected, request), "Need co-signer on loan" (also typical, always rejected), and "My husband threatens to maim me" (rare and intriguing). I opened the last one.
The congressman's wife, a compact ash blond with subtly applied makeup, touched my arm. "Phoenix, could you please text Annalynn to stall? Neither my husband nor his assistant is answering our calls. They must still be driving in a no-service area."
Numerous pockets of rural northern Missouri fit into that category. "Of course." I exited the email and texted Annalynn, who was onstage acting as emcee.
The advance man peered over my shoulder to see her reply. He wore an Armani suit more appropriate in the Capitol's marble halls than this district's struggling small towns. I guessed that he chose the expensive clothing to compensate for a major professional handicap, a lack of memorable physical characteristics. During my years as a covert operative, such an average body and forgettable face would have been an asset.
I read aloud Annalynn's answer: "Connie sing?"
"Yes, excellent idea." Clarissa Candon nodded to her younger, gray-haired sister, the Reverend Nancy Alderton. Nancy darted down the hall toward the dressing rooms while I texted the reply to Annalynn.
The advance man danced around like a kid desperate to find the restroom. "We can't afford a delay. I've got the AP, the Post-Dispatch, the KC Star, and a gung-ho documentarian waiting to hear the announcement."
I wondered if all three journalists were actually one man, the local retired newspaper editor. He'd written the paper's front-page story on the music education grant to LCC, but the big-time press wouldn't be here unless it expected something more, most likely Candon's decision not to run next year. Whatever the news, Annalynn would receive good exposure for her unannounced candidacy.
The others had gone back to their phones, so I edged away to reopen my email and its attached application form. Scrolling to the narrative portion, I read, "The first three months I thought I'd married the ideal man. He told me how beautiful I was from the moment I woke up until I fell asleep. I thought he was sweet when he insisted I quit my job and stay home to plant a big garden and fix up the trailer."
Polite applause interrupted my reading. Two students rushed onto the stage to move the grand piano from behind the curtain.
Annalynn said to the audience, "LCC has been selected to develop a new music education program partly because of this theater's fine facilities. Another reason is Connie Diamante, who brought home to Laycock her unique vocal talent and stage experience."
I ignored Annalynn's recounting of our old friend's credits and returned to reading the application. "Over the next few months, Adam found excuses to cut me off from my friends and family. By our first anniversary, he refused to take me anywhere except to the grocery store, where he never left my side. The first time he beat me was when the mail carrier came to the door to deliver a jacket I had ordered."
Connie nudged me and touched her short blonde curls. "Phoenix, come on. We'll start with 'Oh, What a Beautiful Mornin' and go from there. Fluff up your hair." She whirled and walked toward the opening to the stage.
"Oh, no," I protested. "You can accompany yourself." I avoided public appearances. After years of operating under the radar in Eastern Europe, I hated that people now knew my face and short black hair from coverage of the homicide cases I'd helped Annalynn solve while she served as Vandiver County's acting sheriff.
The petite minister gripped my elbow and pulled me toward the stage. "Connie couldn't find the sheet music. You helped the students rehearse for Oklahoma! and know the songs. You have to play for her."
Connie ran onstage as Annalynn, formerly the second soprano in our high school trio, walked off.  She motioned for me to follow Connie and joined the politicians' huddle.
"Go," Nancy ordered. Ten years older and four inches shorter than I, she reinforced her words with a two-handed shove that sent me stumbling onto the stage.
Bloody hell! No escape. Best to play the fool, always a credible disguise. I shielded my eyes to peer at the snickering audience.
Quick to milk a laugh, especially one at my expense, Connie grabbed my hand and pulled me toward the grand piano. "And this is my shy accompanist." She whispered, "For Pete's sake, keep your blazer over your Glock."
I took my place on the bench and stared at the keys, hands in my lap, as Connie introduced the song. When she nodded to me to play, I crooked a finger for her to come over.
She approached cautiously, the hand mike cocked to pick up anything either of us said.
I leaned toward her and said sotto voce, "Do you want me to play on the white keys or the black keys?" I had no idea what she'd reply, but Connie loved improv and rarely lacked for words.
She patted me on the shoulder. "Let's be bipartisan tonight. Play on both."
During the tittering, I made a show of flexing my fingers. When she moved back to center stage, I played the introductory chords an octave low.
Connie took two steps toward me. "You're too far to the left. Move to the right, please."
The political junkies in the auditorium chuckled and murmured.
I waited until she returned to center stage and started two octaves high. She rushed to the piano. "Not to the far right."
The audience laughed and then applauded.
Out of ideas, I played the song in the proper key. Once we finished, Connie received a big hand.
Annalynn walked onstage and faced the audience. "Would you like an encore?"
Enthusiastic applause.
She turned and whispered to me, "Ten more minutes." Then she walked off.
Connie approached the piano. "What song do we both know?"
None that took ten minutes to sing. I remembered an old gag from our junior high days. I played a dramatic arpeggio and began a simple rendition of "Three Blind Mice."
"Phoenix, that's not appropriate for tonight."
"But it's a political song," I said.
"How is 'Three Blind Mice' a political song?"
I played the music for "See how they run, see how they run."
She smacked her forehead. "The mice are running for their lives, not for public office."
When the laugh died down, she said, "I know. I'll sing the one about what politicians say to lobbyists." She paused. "'I Cain't Say No.'"
Wild applause.
Smart. She'd intended to sing that all along. She had played Ado Annie in summer stock, and I'd helped a student rehearse the song for the LCC production Connie directed. It went so well that she sang an extra chorus. I slipped off the stage while she took bows.
Annalynn, brow furrowed, stood alone in the wings flipping through several sheets of paper.
"Where did the Candon crew go?"
Annalynn looked up. "To the trauma center in Columbia. The congressman's car ran off the road at Star Corner. A medical helicopter evacuated him. Clarissa asked me to announce the grant and tell the audience." My old friend rubbed her right temple. "Our new sheriff will call you when he receives word on Archer's condition. I'll put my phone on the lectern where I can see it so you can text me."
Connie bounced up to us, jubilant at her reception.
Annalynn put on her public face, took a deep breath, and strolled onto the stage.
I answered Connie's unspoken question. "Candon was seriously hurt in a car crash."
"Accident or attempted murder?"
Only the drama queen would think of murder. "Accident, I assume. Anyway, crime is none of our business now that Annalynn's no longer sheriff." Or was it? I opened my email to the application and read, "I'm afraid my husband will hurt or kill me and the good people hiding me. Please help me relocate far away from him."
My phone vibrated. The newly elected sheriff, an old friend, told me the congressman had been declared dead. A tragedy for the Candon family, and a loss that would remind Annalynn of her husband's sudden, violent death six months ago. I hesitated. Could she bear to announce another widow's heartbreak? Annalynn's decision, not mine. I sent a text and watched her open it.
She stood silent a moment. "My friends, I must give you some terrible news. U.S. Representative Archer Candon died a few minutes ago following a car accident." After the audience quieted, she delivered a tribute to the twelve-term congressman so eloquent that even I listened to it.
Connie wiped away a tear. "I don't know much about politics, but I think Annalynn just became a candidate for Candon's House seat."