Even if you've already read Show Me the Gold in hardback, you may want to sign up for a chance to win an autographed copy of the new paperback edition on Goodreads.com. A book makes a good Christmas gift.
To enter the giveaway, go to https://www.goodreads.com/book/show/22945313-show-me-the-gold-3.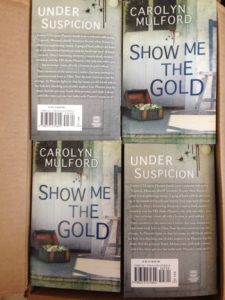 Gold is the third book in the series, the story that starts with Phoenix and Annalynn staking out a country graveyard to catch vandals. By the end of the first chapter, the women take part in a shootout with bank robbers holed up in an abandoned farmhouse. You can read the first chapter on my Show Me Mysteries page.
The paperback edition is a Worldwide Mystery selection for December. It's sold only from the Harlequin website: http://www.harlequin.com/storeitem.html?iid=68332.
—Carolyn Mulford