Show Me the Murder in Paperback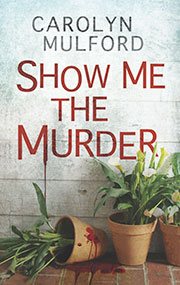 Harlequin Worldwide Mysteries has released the paperback edition of Show Me the Murder. This June, it's featured on the Harlequin website: http://www.harlequin.com/storeitem.html?iid=59157.
You won't find the paperback edition on Amazon or in your brick-and-mortar bookstore. Harlequin sells this mystery line only on its website. Most of the buyers are subscribers.
I'll have copies to sell when I do talks.
Published in hardback and e-book editions by Five Star/Gale, Cengage Learning in 2013, Murder is the first in my series featuring Phoenix Smith, a wounded ex-spy who returns to her rural hometown to relax and instead adapts her tradecraft to solving crime. Five Star markets primarily to libraries, so I retained the mass market paperback, audio, and film rights.
Worldwide Mysteries also will publish the paperback edition of Show Me the Deadly Deer. I haven't received a release date yet, but it probably will come out in early 2016.
The WW cover design for Murder bears no resemblance in style, content, or color to the FS cover. I'm looking forward to seeing what the new Deadly Deer cover will look like.
—Carolyn Mulford